I've always loved to travel and I've always loved to experience new cultures. I would do anything for a chance to drop everything and just get on a plane and visit as many countries as I possibly could. Even though I absolutely hate riding planes. You see, I've been following the blog of a family who is currently traveling around the world. They've been traveling for nearly 300 days. I am So. Flipping. Jealous. Every time I read their blog all I can think is,
No fair. No fair. No fair. I wish I was you guys. Please bring me along! I'll carry your bags!
They are traveling all around Asia right now and it looks absolutely stunning. The temples, sushi, street markets, and little restaurants all look amazing, and I hope that I get a chance to go to some of those places someday. I've already been lucky to visit a few different countries and I'm so thankful for those trips. But I still hope to travel more when I grow up.
In eighth grade I went on a cruise and visited Grand Cayman and Jamaica. The best part of the trip, hands down, was swimming with sting rays in Grand Cayman. No, I did not get stung. They were nice! I definitely like sting rays more than I like dogs.
If I could pick one place to visit right now, I would go to Greece. I'm not exactly sure why, but ever since The Sisterhood of the Traveling Pants and Mamma Mia, I've been dying to go there. Of course, like I said before, I want to go to other places too. But for some reason my heart is set on Greece.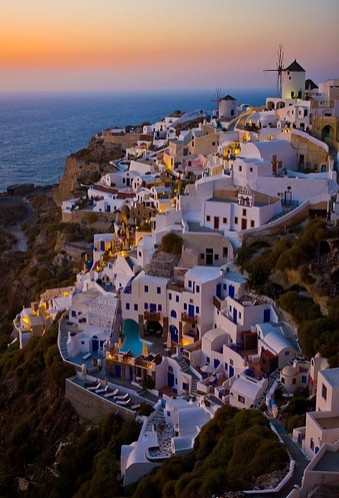 Doesn't it look gorgeous? I guarantee you I will find sometime in my life to go. My parents said that I might be able to go there as a graduation present. Maybe. I'm keeping my fingers crossed.
Also, how cute is this song? So cute. I love it.